Women I think Women have been in the Turf industry, and especially Agriculture since the beginning. Most our the farms were al started out with Mums and Dads running the company. And definitely in my case, I have never been treated any differently on the farm from any of the boys there. Especially my brother. We all just worked as hard as each other. And we all got paid the same. And this has continued in the case of my three kids. My two boys and one daughter all have to work the same.
And its this "we are all have similarities and differences" attitude in our industry that makes all of us Women in Turf have the fun similes on our faces, and the ability to laugh at ourselves, and each other. Especially when its your daughter, or mum or sister.
And thats the #equalfuture that Coastal Turf has always had, and will continue to have. So that when my daughter comes up through she too can smile laugh and Turf with Pride. And my boys as well.
And I think we also have wonderful customers who also are happy to listen to both Barbara and I's advice about varieties and lawn care, and not dismiss us because "we are girls". I think in the Agricultural and Landscape spheres women are seen as having the same information and knowledge as the men. And we are proud to be out there growing harvesting and installing lawns everyday. And proud to be serving your needs!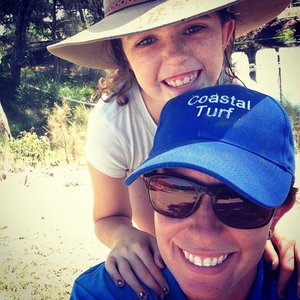 Chat soon
Sare