Coastal Turf is a family owned and operated farm that has been servicing the Tweed, Gold Coast, Northern Rivers, Byron Bay, Suffolk Park, Ewingsdale & Bangalow region for over 25 years.
We are situated on the Tweed Coast, Northern NSW, with our property located at 279 Round Mountain Road, Cabarita Beach, NSW. Just 15 minutes South of the Gold Coast Airport. 30m mins North of Byron Bay.
We have over 40 acres of turf under production. On our rural property we have devoted 5 acres of  property for Eco Conservation. Natural bush land to encourage native flora and fauna such as paperbark trees, eucalyptus trees,  Koala's, Kookaburra's, and Echidna's.
Coastal Turf produces 6 different varieties of turf. We are an Australian owned business as well as part of Northern rivers NSW. As a member of the national turf industry body the Turf Australia we take pride in producing a quality product and investing in the future of the turf industry.
Coastal Turf encourages phone-contact for customers who are unable to make a firm decision on the best variety for their new lawn, to come down to our farm and touch and feel the grass. We have sample pots available for you to see at our office on site of all 6 varieties.  This way we can recommend the best grass for you, depending on your location, size of yard, and how much sunlight the area gets.
Coastal Turf is a professional turf business with qualified employees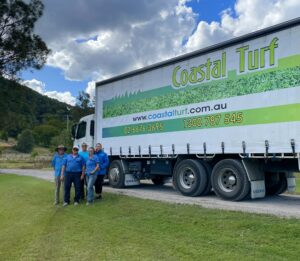 The Coastal Turf Crew consists of:
John Commens –  the Father and Leader of the Coastal Turf Crew. With over 60 years of expert farming knowledge, John manicures and perfects our paddocks to ensure you have a beautiful lawn. His skills have perfected harvesting every piece of turf to a premium quality loved and known by many landscapers and locals.
Sarah Mason – With 20 years plus experience in all things grass, and as a daughter, mother, and wife, as well as Turf farmer. Sarah with her expert knowledge can give you the best advice for all things turf & grass related. Her knowledge of weeds, fungal infections and lawn grubs she can give you the best advice for any lawn treatment for any type of grass. Sarah is our go to girl from being in the office, too deliveries, and driving tractors or loading your turf into your truck or trailer. 
Paul – Our expert man in the truck and skid steer loader. On deliveries he can get the turf as close as possible for you. Paul has been with our team for many years. Paul is qualified within First Aid, and safety. 
Sarah – Sarah is our office finance administrator, organising office operations, invoicing, and all correspondence.  Sarah can assist you with any turf related questions knowing each variety inside and out, roots and all. 
Luke – Luke is our delivery driver and farm hand servicing all areas deliveries from Byron Bay to the top end of the Gold Coast. 
Working farm furry friends. Jessie, Duncan, Millie, Dotty, Marley & JoJo!
As a small team you are assured to have expert personal advice as well as a quality product every-time.
---