Why not head over to our Facebook or Instagram Page to see more!
Coastal Turf has been the preferred supplier of Turf to Bizscapes for over four years. I have found both the service and product they supply to be of the highest quality. Coastal Turf's staff continue to demonstrate extensive knowledge of the products they supply and they are always happy to answer any questions I have regarding supply, installation, establishment or maintenance.The Turf that this company provides is always true to form, in the correct quantities and freshly cut to minimise any risk of failure. This is particularly important to our business in our own pursuit of exceeding customer expectations. In most cases turf is the first impression of our landscape creations. Coastal Turf satisfies all our turfing needs. I intend to continue the use of their services for many years to come and constantly recommend them to others.
Shane Bisgrove – Proprietor. BIZSCAPES
Thank you for providing such a great service and product! S. Allen Gold Coast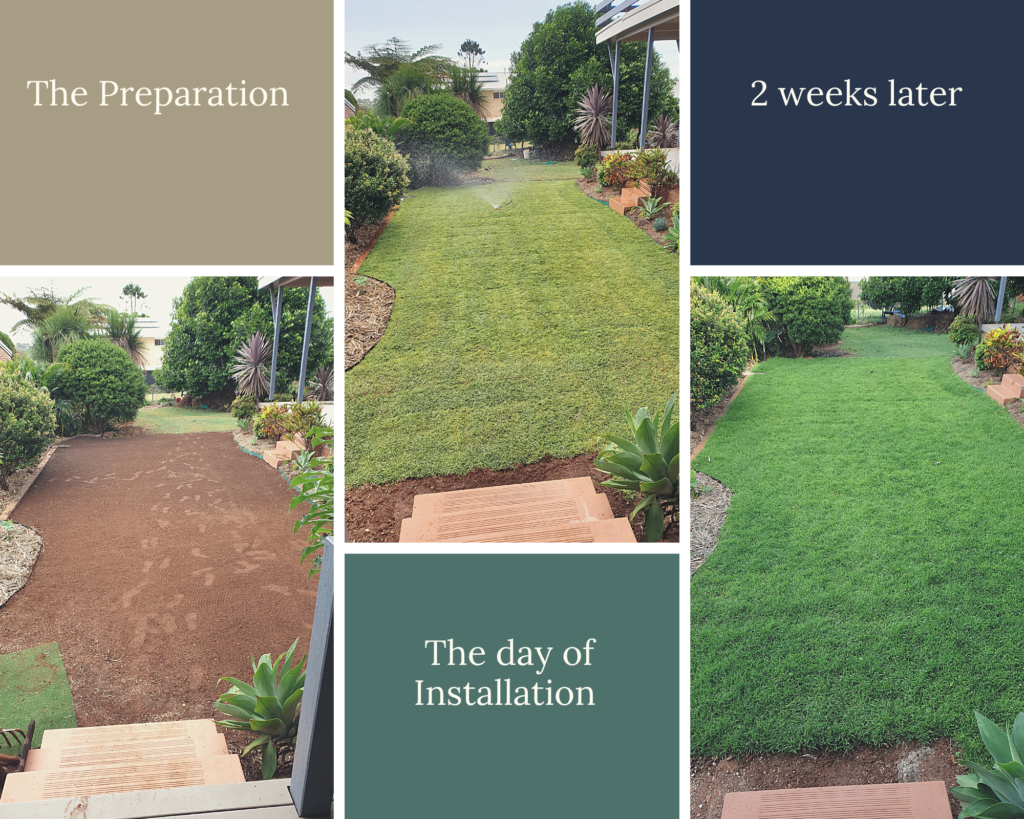 Overall an Excellent Service in all domains. The professional and personal level of service we experienced was without fault. The additional advice was also invaluable. Thank you for an excellent service, we are completely happy, actually THRILLED with the result. Mr S. Mason – Tweed Coast
Great service from start to finish on all aspects of the job from quote, product and installation! Coastal Turf is very competitively priced and the short turn around for supply was much better than expected. Mr. N. Brabham – Tweed Heads.

Coastal Turf helped me choose an easily manageable turf for my new house that is perfectly suited to the conditions of the Coast, the whole thing was really easy. Simon, Tweed Heads NSW.
Thanks very much for waiting most of the day today (Saturday) for us after being hopelessly lost and you coming and finding us and leading back to your turf farm to pick up our 13m of turf, the service was fantastic, I have got turf from other companies on the gold coast and the product you supplied us was far superior to what other company had supplied us, when we take on the next part of our yard reno we will be certainly doing the 170km round trip form our place at the northern of the gold coast to get more turf from you guys, THANKS AGAIN. Anyone looking for turf buy from these guys. – Brett, Billie and Jayden
We found Coastal Turf to be a professional business with personalised service and a high quality product whilst still at a reasonable price. We are very happy customers! – Mrs B. Backmann, Tweed Coast.
They say a photo is worth a thousand words. Chris from Kingscliff sent us these amazing pictures of his DIY lawn. Looks great Chris!
Our Qld Blue is very popular in Sydney. Pete from Vauclose sits and talks with Tony the Turfman about how good the grass looks.
Casuarina Hockey Fields
Dear Sarah, We love our QLD Blue Couch! Our initial research via your extremely helpful website, the ease of placing the order, the prompt and friendly delivery of the freshly cut turf and the detailed instructions on how to place and establish the new turf helped us to thoroughly enjoy the experience of creating a new front lawn. Also your prompt help with our query on mowing times and height were very much appreciated. I have worked in the building industry for more than 30 years and the service and quality of the turf is the best I have seen. Look forward to dealing with you and your family again soon. – Brock