Hi! I'm Sarah! My role here at Coastal Turf is chatting to people on the phone or in person and showing them the different turf grasses. Sometimes I venture out onto the farm for some much needed outside time.
I really love chatting with everyone and learning why they need a new lawn. What they are going to use their new grassed area for. Then helping them to match the best new turf grass for their new lawn.
When I chat with people on the phone I try to visualise what they are describing about how their lawn looks now. Then how a beautiful new Coastal Turf lawn will make their home look and feel.
So I really love it when people send in pictures of their lawns. Often it's quite close to what I had imagined, and other times it is totally different.
The Pacific Buffalo Sanctuary
For example when a beautiful older couple came out to the farm to see which turf grass would suit their lawn, I showed them several varieties, including the Pacific Buffalo . They feel in love with the look and feel of the Pacific buffalo. They chatted about their little dark yard and how it made them unhappy. So they were changing it.
We arranged for Mick, our expert delivery man and turf farmer, to take Pacific buffalo up to their home in Tweed Heads. A couple of weeks later I asked them how it was looking. I was so happy and excited when they sent me back this beautiful picture of their sanctuary, as they call it. It is not what I imagined, it is so much nicer!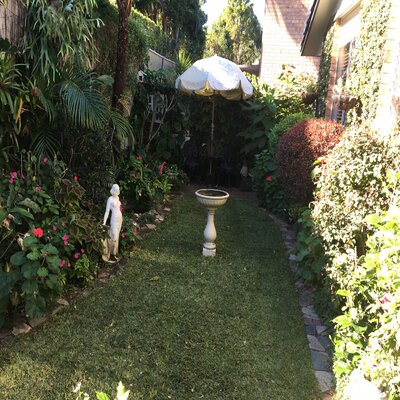 One of the best parts of chatting with people on the phone, is when they call back. Sometimes it's for more turf, sometimes it's for advice, sometimes it's for aftercare products. But it really makes me feel that our relationship with our customers is more than just that truck that drops off that grass. I like to think that we form real relationships with our customers.
I would really love to chat with you about what you want to achieve with your new Coastal Turf lawn, and how we can help you. Give me a call on 0266763695 or email through to me so we can start this exciting journey!