What is so good about your turf compared to others? That's a question that I get asked a lot. Well I can't speak for other turf farms.  I don't know what the quality of their turf is like. But I can tell you about all the great things our turf has!
Before a slab becomes your lawn, it is apart of our paddocks. Our paddocks manicured with organic nutrients and supplements to ensure that the soil has all the right food for the different turf grasses.
We also make sure there is enough micro-organisms within the soil; so things like good bacteria and worms, to promote roots growth and leaf colour.
No Nasty Bugs In The Soil
We then ensure that no nasty bugs are in the soil, trying to undo our good work; like Lawns grubs and Black Beetle.  And my wonderful little dogs do their best to keep the ducks off the paddocks. Ducks do love a good lawn to eat. And they know quality lawn turf grass when they see it.
The paddocks are mown regularly to promote a thick lush covering, at a height suitable to the turf grass type. We also do some super secret Coastal Turf amazing things to make sure our paddocks look amazing. I can't tell you here, but come to the farm to choose your new lawn, and you might get a chance to see…
Before Paddocks Become Lawn
Before our paddocks become your lawn, we chat with you about your lawn wants and needs, to make sure that we deliver to you the right type of grass to be your new lawn.
Many people love their buffalo lawns, others love the Couches, and many people enjoy the easy going nature of a Zoysia. Sunny areas, shady areas, and areas that are used non stop by energetic dogs, or kids, or both! we make sure we match the
right type of lawn to you.
Then we harvest your new lawn. Our turf slabs are at least 3 and a half centimetre thick, usually 4cm. And this thickness includes at least 2cm of soil and root stock. And then the rest is thick lush leaf.
By having the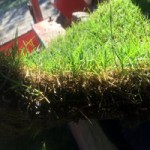 soil at on the slab, we ensure that the roots have a healthy productive environment to ensure its establishment as your new lawn.
The roots go to its new home in your lawn with all the nutrients and moisture we have at the farm, giving it the best start in life we can. This means that the leaf can stay green, lush and fluffy as your new lawn. Looking beautiful. Its less likely to go into extreme shock when you install the slab as your new Lawn.
When We Deliver Your Lawn
When we do come to deliver your lawn, even on a Saturday morning, we make sure your turf is freshly harvested the night before for early morning delivery. This means the leaves have only stopped photosynthesis for a minimum amount of time. Making the slab healthier and happier when it becomes your new lawn.
When we take the turf off our truck and place it around your area to be turfed, we use our Bobcat with 4X4 wheel drive to get the turf as close as possible to where you want to install your new lawn.
Making life easier for you. Our skilled and talented delivery men (John and Mick) lift the turf off the pallet and place it on the soil for you, and take the pallet home with them. Leaving you with less mess and fuss to clean it up. Just a lawn to install and enjoy..
We always send along a little installation guide for you to help with the creation of your new Lawn. By following the simple easy steps, you can ensure the thick lush slab we deliver to you becomes a wonderful thick fluffy lawn, that can be enjoyed by your family and friends, and be the envy of neighbours.
Tony Turfman Or One Of The Boys
And if you so choose, Tony Turfman or one of the boys can come and install your lawn no fuss or bother from you at all! So your lawn will be the absolutely gorgeous and definitely the envy of everyone. The boys sometimes even make people cry with joy at how spectacular their lawns are. (We offer complimentary tissues and smiles.)
If down the track you have any worries or concerns, give me a call. I am happy to chat with customers years later abut their lawn worries and concerns. We keep a record of the paddock where we harvested your lawn, so if you need to patch a little or big part of your lawn, we can make sure your patches match up perfectly.
I am happy to help you with Lawn Grub problems in months or years to come. And if need be Tony or one of the boys can come and offer on site help.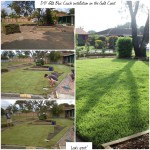 So that's why I love our turf and I believe it is great. Its not just our turf slab that will make a lovely lawn for you, but our service before and after that makes me proud to say "Yep, thats a Coastal Turf Lawn".
Chat Soon
Sare