Is the wet weather getting you down and dirty? Making your house a big grubby mess? Are your kids making your home like the outdoors are coming inside because they are bringing in lots of mud? Do you have that wet dog mud smell through your home? 
With such wet weather meant to stick around for a while, having a lawn to quickly absorb the beautiful rain and use it for good, to grow a sweet smelling green lawn, makes your life happier and simpler. 
Installing a Coastal Turf Palmetto Lawn at your place means you can take away the mud monsters from your life. Find your family again under all that mud masks.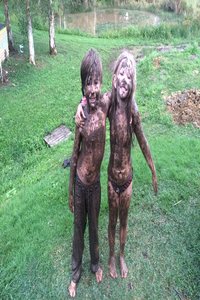 A Palmetto Buffalo lawn gives you the peace of mind of knowing that your lawn with be thick and lush all year round. Being shade tolerant down to a minimum of 3 hours of direct sunlight per day, your lawn will thrive in small or large lawns. And you know while all your neighbours are out there mowing every single weekend, you will be sitting back real axing on your lawn. Watch your kids use your lawn for fun and games. 
The Palmetto Buffalo lawn will create the perfect lawn for your family to enjoy bare footed. If your kids are like mine, shoes were thrown under the trampoline and disregarded to die under the swing set. That was until we installed the Palmetto Buffalo lawn around our trampoline, and the kids can walk bare footed to the trampoline. Not more shoes thrown across the lawn. Just happy little feet, as they cruise across the spongey lawn to bounce away and swing to the blue skies with their toes in the air. 
Get in touch with us today to arrange a beautiful Palmetto Lawn to get rid of the mud monsters in your life.