This is Josh. Josh is a very hard working young man who loves to install Coastal Turf lawns for people. I promise he does NOT lean upon his shovel all day. He actually installed the beautiful lawn at this Metrion home in Hundred Hills, Murwillumbah.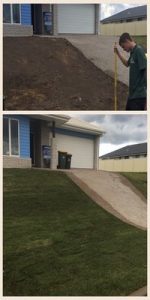 Josh looks like he is in deep concentration (yep this is his concentrating face.) because he is ensuring that the soil levels are at the right height to be flush with the driveway and footpath; that the soil is full of essential nutrients; and that the area is fully prepared with the Turfman secrets to ensure the lawn stays as beautiful in years to come as it is today. Josh has a lot of pressure on him to perform.
Usually on the farm we place a lot of pressure on Mick and John to grow the most amazing looking turf, and on Paul to deliver the turf in its freshest healthiest happiest form. But Josh tells me that their pressure and skills is nothing compared to his own.
Not only did the removal of Josh and his shovel from the photo make the house look amazing, but Josh's concentrated efforts to turn this soil of brown to stunning Green lush lawn for these new home owners makes the photo look fantastic!
So if you want none of the pressure (and according to Josh, don't have the elaborate skill level of his amazing self) to preform to Josh's level, then leave all the pressure and time (and back ache that Josh tells me he has) to Josh and the Turfman crew to install your new lawn.
Chat soon
Sare
PS. Josh also wanted me to point out that he is also an expert on the aftercare and service of your lawn, to ensure its stunning growth over the years. 😉