These guys are the reason that I do what I do. These three, Hollie, Riley and my husband the Turfman, and one more that would not pose for me because he is 12 and too cool now.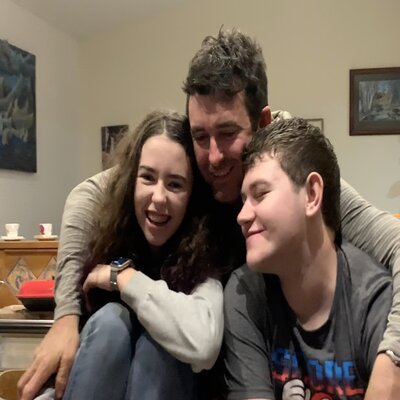 My family is also the reason I love doing what I do. Contrary to popular belief, I do not come to the farm and office to get away from my moody teenagers. I come because I love to farm, and I love to chat with people who love lawn as well. The reason the Turfman and I work all the silly times and hours, like all parents, is to look after our family.
Having a family is such a joy, most of the time. So we understand the desire to make a beautiful green grassed area for your family to enjoy as well.
Having a green grassed area is the perfect place to kick a ball, or run around, or just sit in the sun, or around a fire pit on the soft grass and chat about life.
Its also the place you can send them all out onto when you need some space alone.
So as a Mum, I know the importance of beautiful green grass, and family.
It because of these guys, and everyone else's families from the farm, that we are all taking the long weekend to spend time at home. To do all the silly things with our families they will remember like kick the ball (in my case really badly), run around with them and more importantly, to chat and laugh with them all.
We look forward to helping you with your lawn needs on Tuesday the 9th June. Please feel free to order through our website to ensure fast delivery, or give me a call to discuss your needs.
Have a great weekend with your family. I know I will enjoy mine. Even with my moody 12 year old. I might even make him have a photo with his lovely mum.
Chat soon
Sare