What are your long weekend plans? Are you going camping out into the wild yonder? Are you going to visit Grandma? Or are you lazing by the Pool? To those lucky ones you are probably installing a new lawn? And the luckier ones are sitting back and enjoying their Coastal Turf lawn. Like a Gentleman today who asked if he should sit with a stubby in one hand and a hose in the other all weekend for his newly installed turf. I thought that sounded like a lovely idea. Or are you going to be closely glued to a TV screen on Sunday to cheer the Cowboys home to a Grand Final NRL victory? Thats is where we will be. We do have a small problem in our house this weekend though, because we have a couple of Bronco supporters and then more Cowboys supporters. So Sunday is the day of fun and games at our place.
This year we are off to the Sunshine Coast to celebrate with some friends and family. And like some of you may have seen on other posts, we always have the traditional Grand Final Half Time mini game. This year is no different. All the Dads and some Mums get our there with the very excited kids and play a mini game of football. It is usually more funny, than fun. Which is awesome! And in previous years, we have played on the Soft Blue couch lawn or our Palmetto Patch at our place and had a lovely comforting surface to fall back on. Ahhh. This year we will be on foreign soil. An Away game if you will. I just hope that their lawn is as awesome as ours, and that the falling (not so much tackling. The beer usually helps with that) is as soft and comforting. Although they do have a Qld Blue Couch Lawn. So fingers crossed. I hope your half time shenanigans as as fun as ours!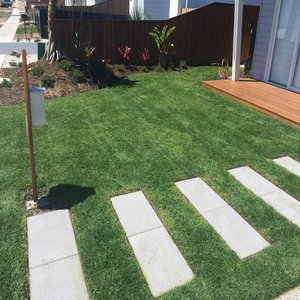 But before you go and wrestle on the turf, preferably a Coastal Turf turfed lawn, why not go and have a drive around the new estate at Miramar in Kingscliff/Casuarina and find the new Surf Life Savings Raffle house. Tony the Turfman installed the lawn and is maintaining its beauty to make your raffle ticket purchase worth more money long term! So support the Surf Living Saving people, be envious of the blue lawn, but buy a ticket to support a great cause.
Ant then next week call and have us bring your house some beautiful Blue to install at your place, so you can be envious no more. Just content with a beautiful lawn (and hopefully a Cowboys win!!!!!!)
Chat soon, but not early on Monday
Sare