Last week I've was out delivering. We have one of our guys away. He is traveling and sending me lovely pictures of the amazing food he is eating. I don't know if that is a lovely thing or not to do. 
 Anyway, while Mick has been  dining on pastas and risottos,  I've been out from the office delivering to some wonderful customers. In my little Ute,  I've been driving around dropping off little 20 to 30 square meter orders. On Thursday I dropped off some stunning Sir Walter to a beautiful couple in Murwillumbah. 
As I drove up the driveway I noticed how steep it was going to be to unload and I was really glad that I didn't send one of the boys with the bobcat. This was a hand delivery situation.
I knocked on the door and a lovely elderly gentleman answered, and with a beautiful smile he showed me his garden, all the amazing paving he has completed since he retired, and some stunning plants. We then moved over to where he wanted to turf. What an amazing preparation job he had completed. 
The gentleman asked how I was going to get the turf off the back of the ute. I said I will hand unload your new lawn and bring it up the back of your yard to where you want to install the turf. His face looked pleased but surprised. "I have ordered turf from another company previously, and they just left the turf on the front verge, " He told me. 
Now, my parents raised me to be mindful of others, this gentleman was of an age that he should not have to lug 30sqm of Sir Walter up a 30 degree driveway out the back of his home, and then install the turf as well. But I didn't say so. I simply smiled and said it would be my pleasure.
His lovely wife, of a similar vintage, came out to pay me as I was taking the ropes off the turf and getting ready to unload. She asked if she should send out her husband to help. As I turned to say I was fine, he was walking down the driveway to assist me. I smiled, and thanked them for their offer, but I like to hand unload the turf. 
I find that by going out on the farm, and hand delivering turf to people, it keeps me fit. My muscles stay strong, and I get to be outside. I have seen many a friend go to the gym, and pay thousands of dollars to strangers to make  them carry heavy loads of tyres, or weights up a hill. In the name of fitness. 
I enjoy cake. I love a good mud cake, and black forest is amazing. Oh and the soft crumble of a butter cream cake is divine. And who can say no to a luscious custard tart. Now I really want boring tea….
But I also really enjoy fitting into my shorts. So it is a fine line I walk. 
This is why I enjoy getting out of the office and hand unloading turf. I get to chat happily to people who are doing something wonderful at their home. And keep myself healthy. 
So I explained this to the wonderful couple. They both smiled and laughed a little. "Also if I fall over at the gym, people will laugh at me. But if I trip and fall while delivering turf, people will offer me help. It's a much nicer way. " And I got on with taking slab by slab up the driveway out the back of the couples home. Ready for installation.
To move 30sqm of Sir Walter up a driveway, and out the back of a home by skid steer usually takes about 10mins. By hand to took me about 25 minutes. So I thought I was doing really well. I was of course a bit red in the face. But feeling very good about myself.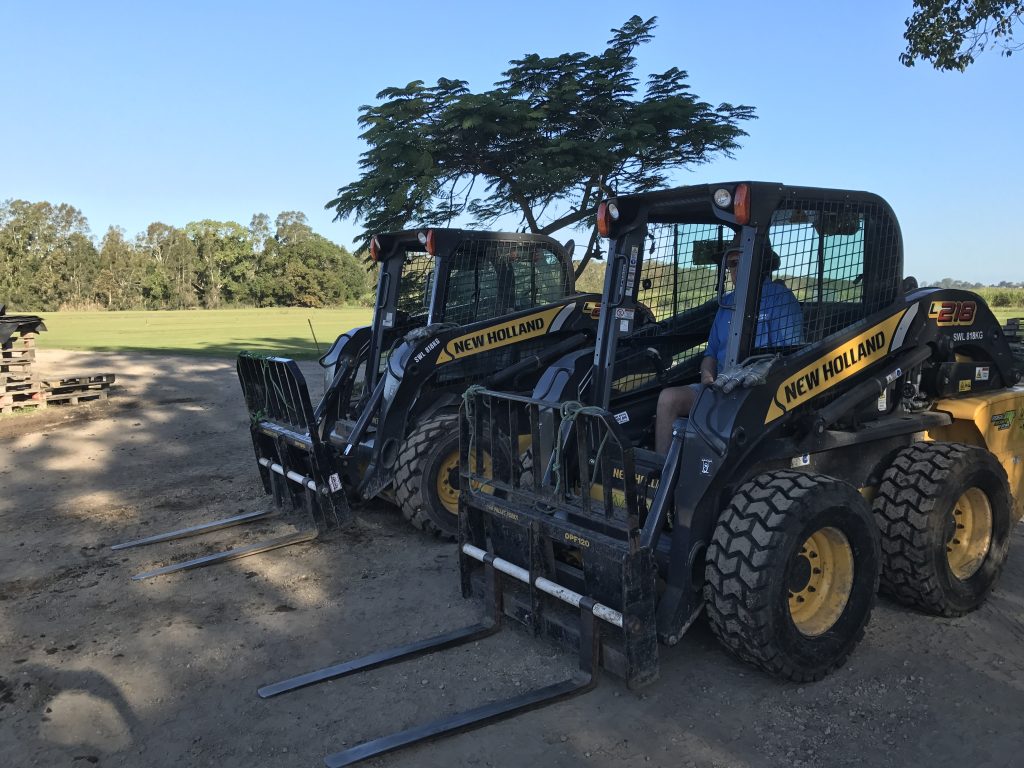 When I had finished, the gentleman asked me to look at his existing lawn and give some advice on how to improve the areas. We had a chat, and I suggested some different mowing techniques and fertiliser.
I washed my hands under their garden tap, and thanked them for their order and said not to hesitate to contact us with any queries. 
Then the most wonderful thing happened. The lovely Lady came out with a little plate. She said "If you like cake, you will love this. Thank you for your consideration ." I nearly melted. How absolutely wonderful that this lovely couple thought so much of my service that they brought me a home made cake. I thanked them again and went back to the office to have a slice of cake and a well deserved cup of tea.
 And everyone knows that little old lady cakes are the best type of cakes you can be served. And one served with kindness and gratitude tastes even better. 
It truely was the best cake I have ever had. I savoured every bite.
So for the best service on the coast, give Coastal Turf an email or a call .And if you are lucky, I will come along and hand deliver your lawn, and share some cake.