More and more I chat with people about needing a nice soft easy to look after lawn for a shaded area. A lawn that will be good for kids bare feet to run across. A lawn that will be ok for their dog to play on. A lawn that doesn't require all their spare time and money being spent on it.
Well that is what the Empire Zoysia is perfect for. As a thinner leafed grass, an Empire Zoysia Lawn is cushioning an soft on little bare feet. But being a Zoysia it is tough and hardy enough with a deep root system to withstand those little bare feet, be they paws or People feet,  playing on it all the time. And the part that I love about it the most is that it is extremely low maintenance.
The Empire Zoysia is my second favourite lawn. My first favourite is Qld Blue. Because it is really soft and when I walk on t with bare feet in the full sun of our lawn area under my clothes line, it is soft and comforting.  I really like the softness under my bare feet.  And the Empire is very similar looking and feeling to the Blue. It is still soft on my bare feet but it will grow in the shaded areas.
The is why I have the Empire around my outdoor shower. After the kids and I have been to the beach I make them shower outside first to get rid of the sand. And there is nothing worse (first world problems!) than already having walked on rocks and road and other mean sharp pointy things on your bare feet which are really used to walking in shoes. It really hurts. Especially on my feet that are used to tough boots surrounding them. That is why I have the Empire Zoysia to comfort my feet when I step out of the car and walk to the shower. Well when I say walk, I mean try and run to the shower before anyone else.
Our outdoor shower was built by the Turfman as an experiment before he built one for a customer. It is solar heated. In that he has black tubing that is warmed by the sun and heats the water. Very water and energy efficient. And although the amount of pipe works great for a 3 people family which he was designing it for, for our 5 family members, only the first couple of showers get warm water. No one wants to be the last shower. Its freezing. Which is great in the heat of summer, but in the cooler times of Spring and Autumn, it does become a little breath taking. Although the pipes are in the sun to heat up, the shower it self is sheltered from the  public eye by large trees and a retaining wall. Which is great for showering, especially when you are a naked child. Not so awesome when you've just had a cold shower though.
So after a cold shower, it is much nicer to walk off the pavers onto soft comforting Empire Zoysia on my feet. Luckily it doesn't need a lot of sunlight to stay thick and lush, and from the water run off from the shower in the warmer months it stays thick lush and soft. And in winter, it goes to "sleep" and requires little love and care from us to stay amazing.
Love the Empire for a shadey conditions for those who want a soft lush comforting to bare feet lawn.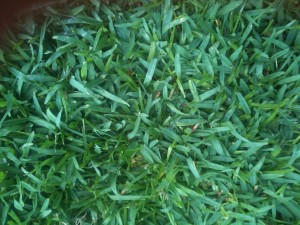 Chat soon
Sare