I was flicking through my Facebook feed, looking for funny memes again, and I came across one of the ads from Realestate.com.au.
Realestate.com.au reminded me that it is nearly outdoor party season. And that the essential part of an outdoor party is, wait for it cause this is why Realestate.com.au is a great site, is an outdoor area! Wow! Who knew.
Well here at Coastal Turf we do, with out being boastful, specialise in Outdoor Areas. We know our Couches from our Zoysias and our Buffaloes from our Sweet Smothers. We love making a great lawn area.  And we also are really really good at Parties. Our small talk is second to none, our Dad jokes rock, and more importantly we always bring a cartoon. Be it beer or cake. We will bring it. So it makes sense that our party people here at Coastal Turf can create the perfect Outdoor Party area for you.
I believe a good Summer Outdoor Party area requires two essential things. Firstly – An open area for kids to play, adults to mingle and possibly a slip and slide to be set up. This open area should have a designated food table, preferably near a BBQ, and possibly a fridge or esky. That is mostly adult dominated.
Secondly, and probably most importantly, a nice soft cushioning area for people to sit, slide, play with a ball, and quite possibly, later on in the party fall over on. This soft cushioning area should be super absorbent to suck up and of those pesky glass spills and food drops. It shouldn't stain from theses spills either, but retain its colour. It should be pleasing to the eye. Comforting to the buttocks. It has to a be a Coastal Turf Lawn.
Your lawn is the great outdoor carpet to ensure your next Outdoor Party is a success. And by having a Coastal Turf lawn expert advise you on the best variety to install at your house, and come and create your outdoor Party area as well.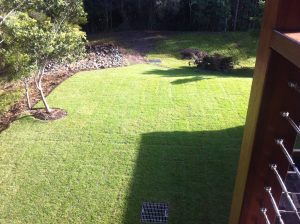 Tony and Brent are great at also creating other landscaped areas as well. To #turfect your lawn (turf perfect). Give us a call and we will get the boys over to give you a quote on site.
And if you want we can also come and help your party come along as well.
Chat soon
Sare