This is what my week has been taken up with. Well the last 8 weeks really. Our wonderful super Turf dog Ethel had 8 puppies. And they are a joy, but also another crazy element to my life. It was really helpful during the kids school holidays though. There was never a moment that the kids came to me and said they were bored. They had puppies to play with, puppies to clean up after, and puppies to feed. And now we have a new turf pup to add to our mix. Little Millicent will be joining our Turf Dog crew. These dogs help us road test our turf paddocks to make sure they can handle to wear and tear of puppy and dog feet on the grass when it becomes your new lawn.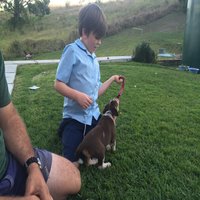 Their real job is to keep feral animals off the farm and to stop animals coming and pulling up the grass to make nasty holes in the turf. Well thats their offical title. Really they are great companions on the farm as well as in the trucks.
So when you give us a call and ask us about dogs in your yard, and how they will effect the turf, we have really good practical idea. And I am making sure we train our next generation of farmers, like Marcus, about this important issue as well. Because our lawns to the families like ours who have furry little members as well, are not just the green space around the house that helps to temperature regulate the home, and make the place look aesthetically pleasing. No No. The lawns at our homes are also playgrounds; adventure filled wildernesses that hold smells and excitement; they are race tracks; they are the fun place that the whole family can play together on. (And also a toilet)
Thats why lawns are so important to us all. And why we also know how important it is to keep them looking green, and feeling soft. So after your lawn is installed, if it is by us or by yourselves, never forget you are more than welcome to ring for more tips, or expert advice on site to keep your lawn as smick as it did when it first arrived.
Chat soon, but when we do ignore the puppy noises in the back ground.
Sare.