This is Ethel. Ethel is one of our farm dogs. Her job is to generally look after the farm, pre dog test all the turf varieties, and also be the best company a turf farmer could ask for.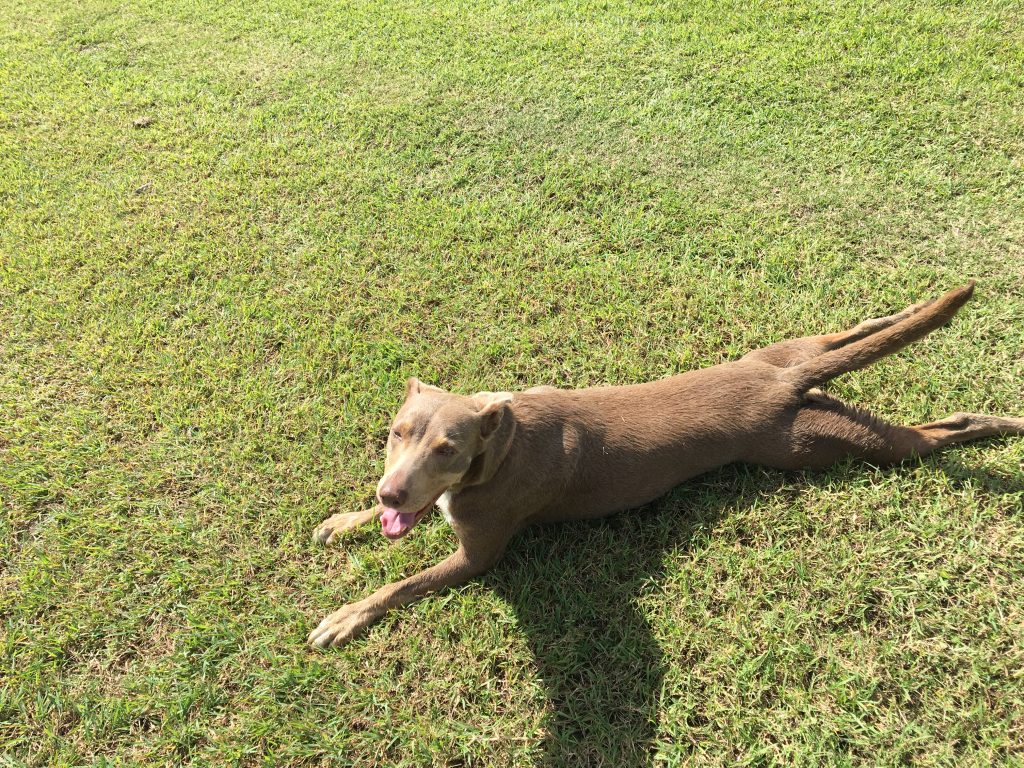 Ethel spends her days running around the farm, or sleeping in the office.
Ethel believes that all of these jobs are extremely important. And applies gusto to them all.
Ethel will be here waiting, tail wagging enthusiastically when you arrive to pick up your turf. Ethel loves cuddles and she will she will expect them upon arrival. Ethel is super friendly and loves to welcome people onto the farm. She also will make a loud noise when you arrive to to let everyone know in the shed, you are here to collect your turf.
Ethel's downfall is she really, really loves a sandwich. And she believes that every sandwich is hers. And she strongly believes that all sandwiches are hers, so she will very gently, but purposefully, relieve you of your sandwich. This has caused several things to happen.
One, Ethel is becoming slightly round.
Two, Ethel is not encouraged around the lunch table or near lunch boxes any more.
And three, it has encouraged all the guys on the farm to bring something else in for lunch. A salad has ben the main choice amount the men, because Ethel, does not make friends with salad. She is purely a carbs girl. Which is also why she is round.
But being our beautiful farm dog, along with her sister Jessica and her daughter Millicent, Ethel does have an important job. And it's not just keeping the farm guys on their diets. Ethel and the girls make sure that the turf is ready and raring to go to become your families new lawn.
Ethel and the girls run across all the paddocks. All three of the girls are Kelpies, which are a really active breed. (Well, they are meant to be. Since Ethel's carb addiction, she has slowed down a little, well a lot) And being an active breed they can give a lawn quite the work out.
This is how we know which lawn will cope with your furry family members on the lawn. Running, jumping, playing and turning quickly with their claws and paws. For example, the Wintergreen couch, although soft, handles the wear and tear of active dogs really well. The regrowth covers any scruff marks the dogs make as they sprint (or waddle), dart and have so much fun as they go across the grass. Perfect for active breeds.
And because Ethel is only thinking of others, we also know that rounder, less active dogs, love a soft green grass to lie upon. And that sometimes a heavier dog can do more damage than a really active dog. Because heavier dogs can cause more compaction on the lawn. Because just because she is a little round, does not mean she doesn't still love to run, a little. So we know the buffaloes are great for high impact lawns.
Being dog lovers and having the girls in the farm all the time, it is a given that we choose only sprays that when applied to the turf, are safe for the dogs to still frolic and play. And with our fertilisers, we go as organic as possible. Ethel tries to eat that as well, but she prefers sandwiches.
Ethel and I both look forward to seeing you next time you come out to the farm to pick up your turf, or hopefully, one day we can venture out of the office and come and deliver some turf to yours well.