Well this week I have been from the normal old job of creating, installing and providing people with new lawns, to being apart of the Tweed Sustainability Expo to show people how a gorgeous green lawn can not only add value to your home, but value to your life as well. It was a great Saturday and it gave me the opportunity to chat and learn from so many new people. Especially those interested in grass, its benefits and how we can help them have the best lawn you can. Tony the Turfman and I had a great time. Thanks to everyone who came and had a chat.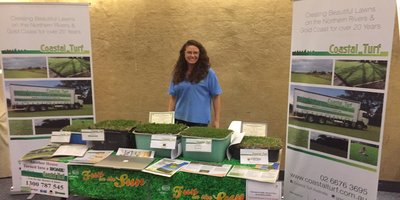 Then on Monday I went down to Brunswick Heads to help Jo add the "skin" to her sculpture for the Brunswick Sculpture walk to be held on the October Long weekend. It was a great experience to watch my Beautiful Blue be turned into something other than a lawn. I truly hope that in the future I get another chance to build another Turf Sculpture with Jo or another Artist. (For those, like me whoa re less refined at art, the grass wall is a resting wall, or a seat to lean against and look out at the creek. It is also a reflection of the corners that the river takes in Brunswick heads. I was impressed. I can grow beautiful grass and help attach it to things, but I couldn't have come up with the subject.)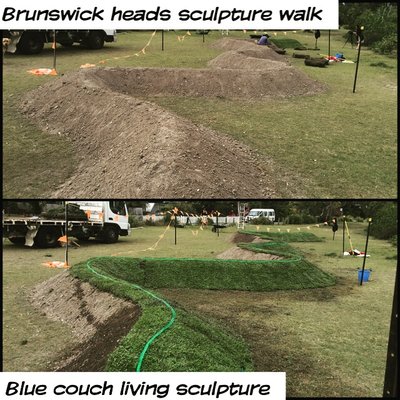 I can not wait to see what the rest of the week will bring to my life? What exciting new project do you have at  your place we can help you with?
Chat soon
Sare