This week I was asked by a lovely gentleman to text through some pictures. Now, sounds a little suspicious doesn't it? But, although the photos were specifically with no clothes, they were not of me. The gentleman was asking for up close pictures of my Buffalo lawn at home.
Although people see lawns from up high when they walk past peoples homes, or quickly drive past, not many people feel comfortable lying down and closely inspecting someones lawn. Especially if you do not know them. I mean it would be a bit weird to be walking past your lounge room window, look out usually and see someone lying on your lawn, inspecting close up the leaf size and texture of our lawn. Although it is a nice compliment that your lawn is gorgeous, it is more than likely to make you  feel, at least, uncomfortable.
So instead I now offer a service of texting up close pictures of the different lawns. Quite often they are from my own home. Our house has all our varieties in different conditions which allows us to run them all through the FamilyTest.
So what is the Family Test?
The Family Test has Four components.
The turf  it is put into a "normal"  home environment (well to that our Family is "Normal". More crazy, weird, extreme, silly, funny, happy, loud. Yet not really Normal. But its I got. And I love them all)
Parents who are busy working, and running around after kids,
Kids that use the yard for Football, Cricket, running, Bike riding, Trampolining , Cubby Houses, and the list goes on, with little regard to the health of the lawn,
Dogs, Cats, Bird, Guinea Pig and Rabbit tested (yep. All we don't have is fish. I had to put my foot down somewhere.) Like the kids, they have little regard for the health and well being of the lawn, other than to sun themselves on, and in the case if the Guinea Pig and Rabbit they self fertilise so they ensure the lawn is good for them to eat.
This means we don't look after our lawn like a Greenkeepers. We look after it like People who do other things. Like you! Our farm is beautiful. It gets all the love and care and mollycoddling it can handle. So when it goes to become your lawn, it looks stunning. The best in the street. But it also has to be tough enough to realise that when it leaves the farm, it is going to have to survive on its own. Some go to people who will continue the mollycoddling, others like us will have busy lives and treat it like lawn.
So I know that the Palmetto buffalo will take the wear and tear of kids, bikes, cars, trampolines, tents, and surprisingly, a random calf that my son brought home.  Blue couch is perfect under your clothes line to comfort tired feet after a long day, but you still have a lot of house work to do. Green couch is the best to fall on when you are playing backyard Football (this I have person experience with. Turns out my 9 year old is really quite good at tackling.)  Empire Zoysia is great for around an outdoor shower.  And Coastal mix is great around Dog kennels.
I know which one needs more mowing, which ones need more watering, and which ones when you don't have time to do anything outside you home for a couple of weeks because your working so hard, and then taking the kids to whatever the next adventure for them is – the one that thrives on neglect.
I am more than happy to text you pictures of our Family Tested lawns.
Here is our Palmetto up close and personal. And of course Naked.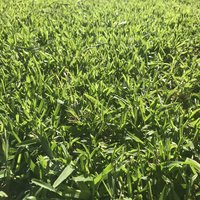 Chat soon
Sare