Each time I get a chance to sit down and write something here, I skip through my photos to see what looks amazing. This month just seems to be all about Empire Zoysia. I believe its because of the amazing colour of the Empire Zoysia throughout winter is always a winner. And it really does seem to be on peoples minds at the moment.
I can understand why. I have the Empire at home around our outdoor shower. Crazy story about this area. You know how Builders homes are never really quite finished, and plumbers always have a leaky tap, well Turf Farmers and Turfmen homes are usually a bit lawn bare. For 2 years I talked and talked about getting lawn for this area, and every time Turfman would say "yeah I'll get to it". Well last year I broke and I just put in an order and got the boys on the farm to cut it like it was for a real customer, and picked it up and installed it myself around the outdoor shower. I love the softness on my feet in the shaded areas.
I think I talk on the phone all the time to people with shaded areas that still want the softness under foot about my outdoor shower area. I did mention quite enthusiastically my Empire to a Lovely Lady in Ballina. And I convinced  her of its awesomeness. Last week one of our recommended  skilled Landscapers travelled down to Ballina and installed to another Enthusiastic Empire Lover their new Lawn. I am very happy to give you his number if anyone wants installations of perfect lawns in the Byron Ballina area. This photo says it all!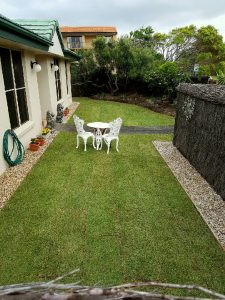 There are times when Turfman cannot get to a client in a fast enough fashion. So we have a list of Recommended  Landscapers and Turf Installers to assist you in creating the perfect Coastal Turf Lawn. Give us a call because no matter where you are between Ballina to Coomera we can bring you your Essential to a Good Life Coastal Turf Lawn.
Chat soon
Sare