This is my kids. In the mud. In the rain. In the mud. Oh what a fun weekend my kids had.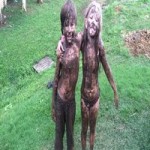 My kids tell me that they have to play in the mud because they are deprived of not having snow. They have to have mud fights instead of snow fights. I think they are really lucky we live on a farm and have so much mud round at the moment to play in the mud like this. Well the kids are lucky.  My bathroom, which used to be white and now is a muddy browny colour (even after I cleaned it, twice), is not so lucky. And I tell you, getting mud out of long hair is really really hard.
So don't let your school holidays end up like mine. Get some green Coastal Turf grass on your muddy patches, so your kids can have fun outside on the some sun we do get some, and not end up like my kids.
Have a lovely school holidays
Chat soon
Sare