I love Christmas. My kids are nicer, and trying really really hard to be good for Santa. On the 1St December my kids were up at 4.45am NSW time to get dressed, and ready for school early enough to be able to put the christmas tree up. And they did a great job. I am very proud of them. Its a really really busy time of year though. It does get to the time of year when we all seem to be running, rather than walking through life.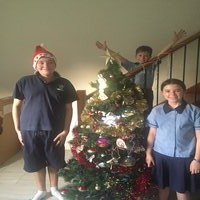 So just a reminder that if you are looking for turf before Christmas, to give us as much notice as you possible can. The 16th December is our next available delivery day. If you do need turf the week before Christmas let us know now as this week is booking up very quickly!
Have a magical December and try and slow down to a running pace to get everything in. And those who know how to walk in December my hat off to you!
Chat Soon
Sare