Merry Christmas everyone! This year I am proud to say that the Coastal Turf team were able to make two little girls Christmas that little bit more special!
This year has had its ups and downs. 2020 has brought its fair share of challenges.
So when I had two families call looking for a new lawn because it was on their daughters Christmas wish lists. How could we not help!
Firstly there was a lovely family with a happy daughter in Tweed who had the pleasure to have her birthday fall on Christmas day. What a beautiful Christmas present to her parents she must be. But her only wish was to have a grass for her Birthday and Christmas. She just wanted to go outside without shoes on.
Her mum called and was worried that with some of the shortages of turf varieties we would no the able to help. But how could we not!
So the team on the farm, feed, manicured and mowed the Sir Walter buffalo to perfection in time for us to take 180sqm of Premium Sir Walter buffalo turf to her Mum and Uncle to install 2 weeks before Christmas.
I called Mum to give her the good news we could lock in a delivery date, and Mum was driving in the car with her daughter. Its so beautiful to hear giggles and squeals of excitement through the phone.
On the last day of school, the little girl went to school with a dirt and rocky backyard. And came home to lushes green grass. And of course she ran around with bare feet on the lawn!

Another family in Murwillumbah had a lawn on their Christmas Wish list. When Dad called on the Monday before Christmas, he really thought it was too late to fulfil his daughters Christmas wish.
But, at Coastal Turf we are all parents. And a sucker for a kid Christmas story. So our Paul went over Christmas Eve moring and dropped off a beautiful new Coastal Mix lawn.
Her smile says it all!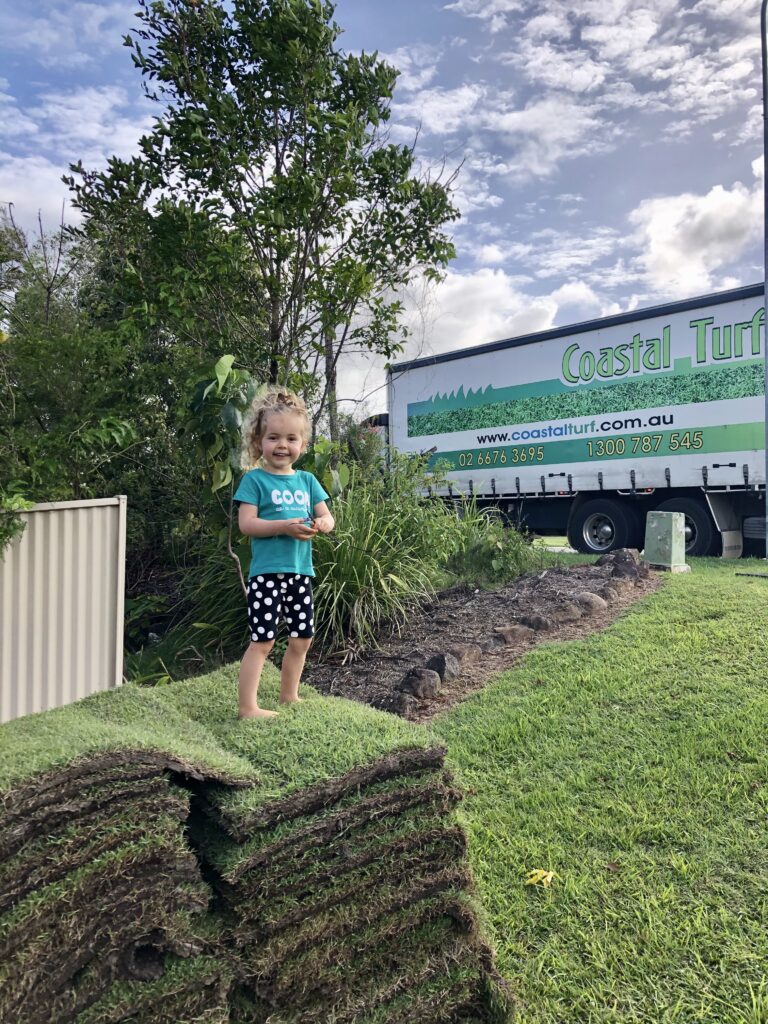 As a family farm we know how important it is to make your kids smile. And how great a lawn is for kids to play on and enjoy. Especially a soft green lush lawn that the kids can run around on with bare feet.
Sometimes even before its laid!
The team at Coastal Turf will be closing down Christmas Eve at lunchtime to prepare the paddocks, incase Santa and his reindeer need a soft place to rest for the night.
And then we will reopen on the 4th January for all your turf and lawn needs.
Merry Christmas everyone. And green grass blessings to you all!