Christmas to me is family and friends all together having fun and laughing, eating way too much, and having a great game of cricket on the lawn. It has been a family tradition in my family ever since I can remember.
Christmas starts very early with our little Mason family, with the kids ( well really its all of us) really excited about the day. The kids are always up, I think, before the sun. Turfman and I a little later. The smiles on my kids faces beam brighter than the sun will ever shine.
Turfman and I make the kids wait until we are both up, have suitable pj's on, (one year my big T shirt and undies just didn't look right in the morning photos) and have a cup of Coffee or Tea in our hands before any Christmas presents can be opened. We take our Cuppas into the lounge room and we all sit on the floor to open our presents.
Now I would like to say we are like one of those TV families that all sit around and wait for each individual to open a gift, and fully appreciate it, before we move on to the next person. But my kids just open theirs with excited screams. Our family presents, as boring as it might sound, are things we have been saving for all year for them. And now the kids are older they are getting more practical gifts.
Like our youngest Marcus, goes to High School next year, so he is getting the little computer he needs. Luckily I know he doesn't read this, or he would know. Not sure if we will give him the Wifi code though. That might have to wait until New Years.
After the presents are opened and the kids have put wrapping paper everywhere; Turfman runs around and does a quick paper clean up, and the day is in full swing.
Cooking starts. Clothes are put on. Bottles of Bubbles are popped, and our family and friends start to arrive around 10ish. There is hugging, kissing and real love on my home. I always have way more food than is needed, but at Christmas it doesn't seem to matter. Lunch is a combination of Hot and Cold food, but only warmth and smiles grace the table. Bon Bons are popped and crazy stupid hats are worn. Glasses are clinked with more and more extravagant toasts being made.
Then comes the clean up and stack away, while the kids run around in-between asking us when we will be done!
Because everyone loves the Christmas game of cricket on our lawn. Only on Christmas are the rules a little more flexible. Like kids cannot get out on the first ball. And Grandma can have a runner between wickets – usually a little kid who is way too fast to get run out. The Uncles have to play on the out field so they can actually catch the ball. If the dogs catch it on the full it's out. There are no teams, just two batters and everyone else are fielders.
No little kids are allowed at Silly mid on – ever again! Poppa and Turfman and Uncle Rob are not allowed to bowl spinners, especially at the kids. Or me cause I squeal. You can get extra runs if you can hit a 6 with a stubby or glass of wine in your hand, and nothing spills. Over the fence or on the roof is out, and we make sure we have extra balls so no one has to go on the roof.
Most importantly you cannot wear shoes.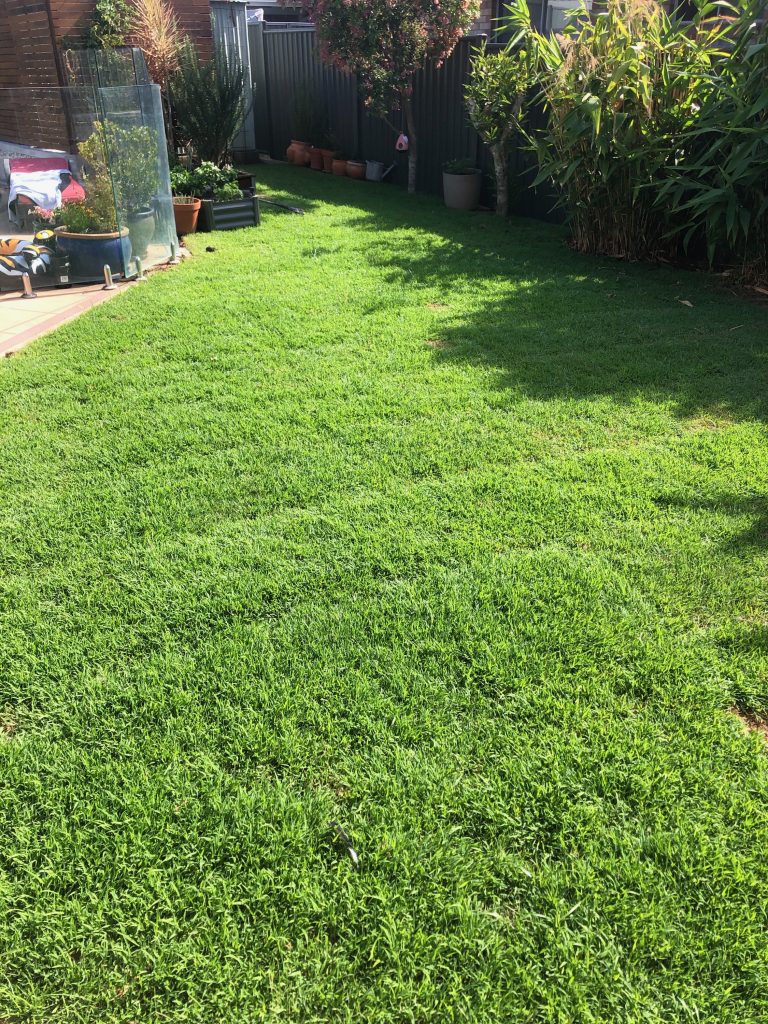 So our lawn has to be soft, fluffy and weed free for Christmas day. Otherwise it makes for a hard run between wickets, and an even harder time to run to catch the ball.
Thats why we use the Blue Couch as our cricket lawn. It's soft, dark and comforting leaf makes our feet feel invigorated as we make that spirited run between wickets.
It's just one of those days that is all about being together; having fun; and creating great memories, as well as ensuring that the love of Lawn Cricket is passed down through the generations.
And I couldn't do it without my lawn.
Have great Christmas everyone, and I hope you have a Christmas tradition on your lawn.
To have a brand new Lawn for your Christmas, order now!