This is the standard joke at our office and farm. That the Couch (the lawn grass) is spelt the same as the Couch (the lounge sofa). But there are similarities. The Blue Couch Lawn is soft and comfortable just like a blue lounge and both are great to sit on. But unlike the lounge, the Lawn will not mind if you spill drinks or food on it. In fact it will just grow a little more softer. And just like when you buy a brand new lounge, and its new and impressive, your new Blue Couch lawn is very impressive, but all year round. And it gets better with age.
But more importantly, the Blue Couch lawn will be OUTSIDE where everyone can see it. And its more impressive to have your new important purchase out where it can be the Envy of everyone else of the street.
There are other  differences between the Lawn and the Lounge. Like you shouldn't mow your lounge, bad idea. And lounges are best inside, but the Lawn is definitely best in full sun, where you can occasionally mow it. And you really shouldn't water your lounge, but please do sprinkle your blue couch lawn when it curls its leaf. But if you have a lounge that curls its leaves please please send me a picture. That would be very cool.
So Blue Couch it up, and maybe even get a lounge to match your Lawn!
Chat soon
Sare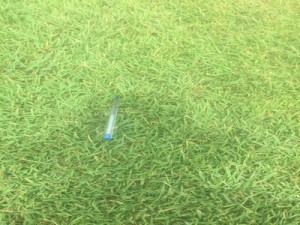 PS You should also never stab a pen into your Blue Couch Lounge, just your lawn. Ask my then 4 year old son. Never stab the lounge!