Coastal Turf is part of the National Turf body whom are running a Little Bash competition. If your lawn is bought from Coastal Turf and wins the competition, we will give you an extra prize of a Coastal Turf Fertilser pack to ensure the health of your new Cricket Pitch. Check out the competition and enter once or 20 times. Good Luck. HowZ That!
The summer of cricket is about to get underway and Lawnspiration through their face book page are giving you the chance to WIN TICKETS FOR YOU & 3 FRIENDS to a Twenty20 Big Bash game in your closest capital city!! We have FIVE lots of tickets to give away!
How do you win? Show Lawnspiration your own unique backyard cricket pitch, share it on our page and our panel of backyard wicket experts will pick the winner!
Entries are now open but stay tuned to the Lawnspiration for tips to help your backyard wicket pass the famous key test! And Coastal Turf can help with your home personal tips!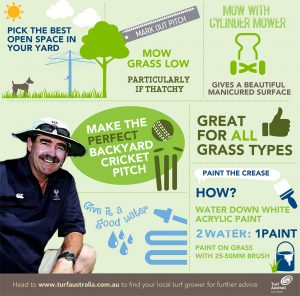 Check out this FaceBook page for more info on the comp!(Copy and paste into your browsers, sorry either my cleverness on the computer or the limitations of the engine is not letting me put a link. Sorry. I'll ask my 14 year old for more help! )
https://www.facebook.com/lawnspiration
Lets Bash away!
Chat soon
Sare