The best part of our family farming business is that I get to meet new and interesting people all the time.
As a family farm and business, all of us are customer focused. And the people we supply our turf to are not just numbers, but people get to know.
Our family and team live in the local area and there is no better feeling than driving past a lawn we have supplied, seeing a family out enjoying the lawn and getting a wave from the family.
Our customers are not numbers, but people we get to know.
We like to find out what people want to use their lawn for. If there will be dogs and kids playing on it. And if there is a particular style they prefer. And the best way to do this is to chat with them.
I have been chatting with a really lovely lady from the Gold Coast for several months now. We have bonded over our love of the Blue Couch! It is, in my opinion and hopefully hers, one of, if not THE, best turf grass available. So soft, beautiful and easy to take care of. This lovely lady has been ordering and installing Blue couch with her husband for a couple of months now. A couple of pallets at a time.
I had heard her describe all the wonderful things that her husband had created in their garden. How hard they had worked together. And how proud she was of both of their achievements. Mick would take the Blue Couch up there, and come back and say how beautiful it all was. In my head, it was a flat beautiful lawn with a few trees.
But I didn't really fully fathom how beautiful it was. So I asked for pictures.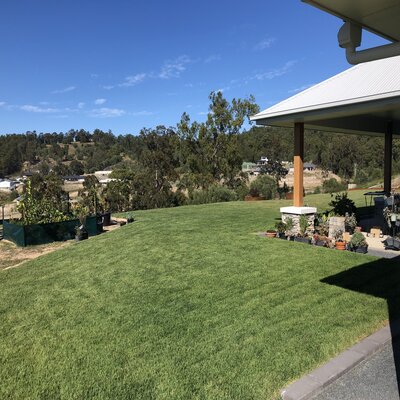 Firstly I asked the lovely lady if she would mind sending some. She sent me through the first couple of stages, which looked AMAZING! She and her husband are doing such a magic job. The way they have installed the Blue Couch around their home and terraces makes me fall in love with the Blue couch all over again.
While Mick was there delivering a load a month or so ago they asked his opinion on what to do in the lower levels. Mick had a look at the area, and chatted with them about what they were going to use this area for, and then suggested the Coastal Mix as an alternative. It would save them on costs as well as water.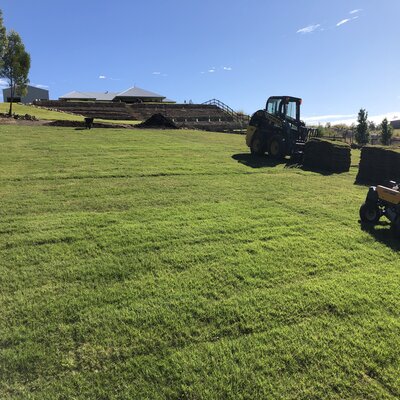 Mick went back this week with a couple of pallets of our Coastal Mix, for the area down the back that the Kangaroos may invade. The Blue and the Coastal compliment each other beautifully at their home.
This beautiful DIY garden with our Blue Couch and Coastal Mix is so stunning that I had to share it with you!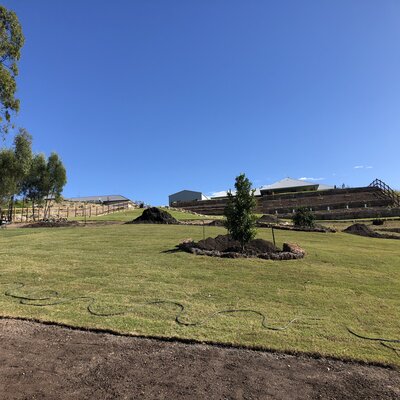 We are so proud to be able to provide turf specifically for each persons individuals needs. And we love seeing the results!
Our Blue Couch will be ready again to harvest (fingers crossed) around the end of September. Our Coastal Mix is available now! We can't wait to supply the Blue back to everyone who loves it as much as I do!
So call or drop us a line to have a chat with myself or Mick about what will be the best new lawn for your place!