Over the years you have probably all heard me chat on and on about little perfect patches of green. Really I think that is what we are all trying to achieve with our yards. A Great place to sit, relax, play and enjoy the out doors. And for those of us with kids, grass is a great place for kids to be. Running, playing, wrestling, and sometimes, being away from grownups.
Schools to often these days are going to the concrete jungle. So I was so excited to help Bogangar Public School take out some of their concrete and put down a Palmetto Patch for the kindergarten kids to sit down and have their breaks as well as an awesome place to do some outdoor learning. I know my boys learn much better outside than they do in a class room.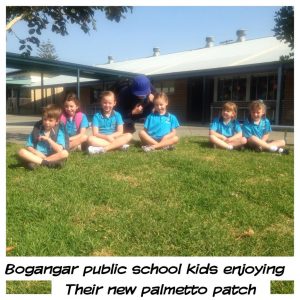 When I asked the kids what they liked best about it, the kindy boy and girls said it was because it was called the Kindy Green, so it was just for them. The year 2 girls said they liked it because it was so soft to sit on at lunch. And the big Boy, said it was great!
So I think if the Bogangar Public School's perfect little patch of Palmetto can handle the rough and tumble and wear and tear of nearly 300 kids, it should do for a lawn at your place.
Make the Grass greener on your side of the fence with Coastal Turf!
Chat soon
Sare