Who has been to Knox Park in Murwillumbah in NSW lately? The new park there is amazing!They have equipment for tiny toddler kids to the mid sized running quick moving kids and teenagers and mothers too. It is great fun with its flying fox, and curly slide. I know my 7 year old, 9 year old and my 13 year old had a great time. I had a fantastic time sliding and flying around. It has been a while since I have found a park that is fun for all ages. And I must say Knox park nailed it for our family.
I must confess the only reason we went to the park last week was because I wanted to check out the turf that the Tweed Shire Council had special ordered for the park area. They asked for Palmetto buffalo for the shade areas around the little slide (I couldn't make it into this one). And they have done a fantastic job with the whole Park installation, but especially the Lawn area. The Palmetto is the perfect companion for the park. Its tough but soft and cushioning when the chasing games become a little too uncoordinated. (Not that I would know about falling over while being chased by my little kids through park. Ok so only twice and yes both times other people where watching)The Patch will be perfect for picnic blankets so sandwiches can be eaten quickly before the kids run across the lawn to go back to the flying fox (I totally recommend this).  Sitting the shade on this spot will be a sort after place in Knox Park this summer I think.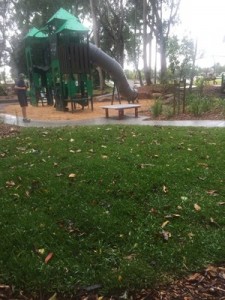 So go try out the soft picnic on the Palmetto and give it a try for your home. If the council can make it look this good, imagine what it can look like at your place!
Chat soon
Sare