This week has been pretty exciting for me.
Coastal Turf and Tony the Turfman are great believers of being part of our community. And encouraging our kids, families, and friends to play games of all sorts on REAL GRASS. There are so many many health benefits of playing sport an a real natural surface like grass.
The bodily fluid absorption is a big one for me. My kids are the type of kids that although not extremely talented in any real sport, they throw their body on the line. I have told my daughter time and time again, especially as a small child, that skipping hand in hand with your best friend, although super fun and super cute, and probably quite talented, is not a real sport. If its not in the Olympics, its not a real sport. Where as Hockey, and football (of various varieties) are Olympic and Internationally recognised sports. And being children of a Turf Farmer and a Turfman being on REAL GRASS makes then especially appealing.
Take Football. I love that the Tweed area have started a Womens league for both Afl and NRL. I totally do not understand either of them. But we want to support them running on the grass, tackling on the grass and falling on the grass. Coastal Turf supply the Womens Tweed Coast Tigers with some Green couch for their oval. And support the Tweed Coast Tigers.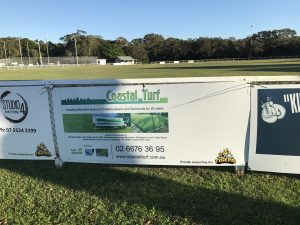 Go the Tigers! Love that Green Couch to run on and fall on.
The Tweed Coast Raiders Junior and the Senior teams are all supported by the Turfman. We believe that it is so  important to get kids out and playing sport so they will carry the love of REAL Grass and being outside playing sport on REAL GRASS for the rest of their lives.
Coastal Turf was very proud to support the Kingscliff Hockey Clubs juniors to arrange for them to all have a training shirt.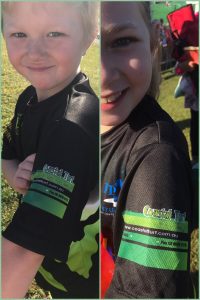 Nothing better than smiling faces of kids playing sport. So much fun.
So go out and enjoy your lawn. Train your future REAL GRASS players. And get them down to Kingy Hockey Club or Tweed Tigers or Tweed Coast Raiders and join them up to play on REAL GRASS some REAL sport.
Chat soon
Sare
PS Look for me at the next AFL Tweed Tigers game. And come over and explain to me what is happening, and appropriate times to cheer.