Coming up to a normal weekend, I am wistfully remembering our long weekend. And how nice would it be to have a "Long " weekend each weekend. I might actually get something done around our house. I'm not sure how many of you are partners of "tradesmen". They are those wonderful people who go to other peoples houses and fix and create masterpieces for them, and then come home so exhausted that they can't do the same at home. Some of my close friends have tradesmen Partners.Wives of builders are still waiting for a wall to be finished. A husband of a painter is waiting for his office to be painted. And a close friend whose husband is an electrician has a light switch that doesn't turn on anything…yet! It really does make me happy that my husband isn't a Doctor. I could very well be sick all the time!
But over a long weekend, the whole story can change. On Saturday Tony the Turfman created a beautiful Palmetto lawn for a family in Casuarina. And then on Sunday my wonderful Landscaper husband, Tony the Turfman, created our Out Door Shower that he was going to create now for 3 years. And it is amazing! The water comes out onto the beautiful paved non slip area, with great gusto, and then drains down onto our grassed area. Giving our grass a wonderful summer water after we have been at the beach, well it will do. True not really the time of year to test it out, but the kids gave it a go anyway.
Now coming up to a "Normal" length weekend I am faced with the reality of knowing that no new exciting projects that we have been dreaming and designing for years will be made. This week Turfman has been out busily creating lawns and irrigation systems, Water features and Play spaces for other peoples families to play and enjoy. So I will enjoy my shower, in the summer. And then hopefully in the summer, I can get my Pizza Oven created so we can all sit around the oven and get warm next winter. Slightly comforted in the knowledge that he will be doing all the exciting projects at someone else's home. Making s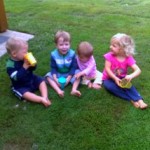 oft places for little feet to play.
Chat soon
Sare