1. How is turf sold ?
Turf is sold on a per sqm basis. This is much easier for both customer and the Coastal Turf professionals to work out the required amount of turf.
2. How is your turf delivered ?
Coastal Turf cuts all of its turf onto pallets. These pallets of turf are then loaded into an all weather tautliner truck and taken to your house, where our professional tream unload the pallets with our Skid Steer loaders. With our Skid Steers we are able to move the turf pallet as close as possible to where you want to install your new lawn. We then slide the turf off the pallet, take the pallet away with us. Leaving you with fresh healthy turf to install. 
3. Do we have to purchase a set amount of turf, such as a pallet of turf ?
No you DO NOT have to purchase a set amount of turf or a pallet of turf. All of our Turf is cut fresh and specific to order, ie if you want 26sqm of turf we will cut 26sqm of turf for you. If you want 400sqm of turf we will cut 400sqm of turf for you. We cater specifically for your exact requirements.
4. What if we are a little bit unsure of how much turf we need ?
No worries at all, you can refer to our on line turf calculator or our MEASURING section for further tips and ideas. If you are still unsure please give our team a call and we will assist you. 
5. How far up or down the Coast does Coastal Turf Deliver ?
Coastal Turf delivers turf all over the Ballina, Byron, Tweed and Gold Coasts, more specifically from Coomera in the North to Lennox Head in the South. Areas outside of that area can be arranged upon request, we have delivered our turf as far Sydneys Northern Beaches. (it's just that good!)
6. How do I know which type of turf is best for me ?
Often this can be a very confusing question. At Coastal Turf we try to make the decision a little easier for you. Our turf TURF SUMMARY TABLE  sets out all the pros and cons of each of the turf varieties best suited for our coastal conditions. And our team at Coastal Turf love talking turf ! Get in touch with us and we will happily chat you through the best turf for your new home. 
7. What about site preparation, how do I start ?
The quality of your site preparation will have a direct effect on the quality of your lawn. Coastal Turf has over 25 yers of experience of creating beautiful lawns. And we love sharing!
If you would like to DIY your lawn, which is so very satisfying, we are happy to email you through an installation guide to get you started.
Or we can put you in touch with quality trained professionals for all your site preparation needs. If we wouldn't use them at our home we wouldn't recommend them to you.
8. How long does it take from ordering our turf to delivery of turf ?
Coastal Turf has 5 delivery vehicles servicing the Byron – Ballina and Tweed and Gold Coasts daily (Mon -Sat).
Supply and Deliver of Turf only                         = 2-3 days notice required
*Saturday Deliveries are no worries at all and no extra charge !
9. How thick is the Turf ?
Our turf slabs are harvested at 40mm thick or 4cm. The soil and root section of the slab is about 20mm which and the leaf and thatch is also 20mm thigh on average.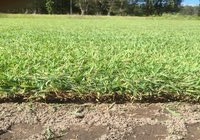 10. How can we order our new lawn?
Coastal Turf makes it as easy as possible for our customers order their new lawn. Any time day or night you can order you new lawn through our online shop.
We would also love to take your order over the phone. Give us a call and we can schedule your delivery time and date.
All turf has to be paid for before delivery or pick up from our farm. We offer direct deposit, eftpos and B Point online payments or your convince. We are currently limiting cash payments during this COVID period. 
11. How quickly does the turf need to be laid once it is delivered ?
It is best to ensure all of the turf is installed within 12hrs of delivery. If there is any turf that cannot be laid within that time period spread it out as best you can to allow air flow to move through. 
12. Do we have to roll our new turf ?
You don't HAVE to, but it is strongly recommended. Rolling your new turf ensures that the turf comes into full contact with the soil (meaning it is less likely to dry out) and makes sure that the entire area is flat and uniform.
13. Should we put a fertiliser underneath the Turf ?
YES. Fertilser under your new turf means that as the roots leave the turf slab towards your soil, they firstly ht a great big feed. This makes them stronger and healthier, now and into the future. We have a great selection of Under Turf fertilisers to  ensure your lawn looks brilliant now and in to the future. Have a look at them here. 
If you have any more questions please dont hesistate to
Coastal Turf Privacy Policy
This Privacy Policy describes how your personal information is collected, used, and shared when you visit or make a purchase from https://coastalturf.com.au/ (the "Site").
PERSONAL INFORMATION WE COLLECT
When you visit the Site, we automatically collect certain information about your device, including information about your web browser, IP address, time zone, and some of the cookies that are installed on your device. Additionally, as you browse the Site, we collect information about the individual web pages or products that you view, what websites or search terms referred you to the Site, and information about how you interact with the Site. We refer to this automatically-collected information as "Device Information."
We collect Device Information using the following technologies:
    – "Cookies" are data files that are placed on your device or computer and often include an anonymous unique identifier. For more information about cookies, and how to disable cookies, visit http://www.allaboutcookies.org.
    – "Log files" track actions occurring on the Site, and collect data including your IP address, browser type, Internet service provider, referring/exit pages, and date/time stamps.
    – "Web beacons," "tags," and "pixels" are electronic files used to record information about how you browse the Site.
    [[INSERT DESCRIPTIONS OF OTHER TYPES OF TRACKING TECHNOLOGIES USED]]
When we talk about "Personal Information" in this Privacy Policy, we are talking both about Device Information and Order Information.
HOW DO WE USE YOUR PERSONAL INFORMATION?
We use the Order Information that we collect generally to fulfil any orders placed through the Site (including processing your payment information, arranging for shipping, and providing you with invoices and/or order confirmations).  Additionally, we use this Order Information to:
Communicate with you;
Screen our orders for potential risk or fraud; and
When in line with the preferences you have shared with us, provide you with information or advertising relating to our products or services.
We use the Device Information that we collect to help us screen for potential risk and fraud (in particular, your IP address), and more generally to improve and optimise our Site (for example, by generating analytics about how our customers browse and interact with the Site, and to assess the success of our marketing and advertising campaigns).
SHARING YOUR PERSONAL INFORMATION
We share your Personal Information with third parties to help us use your Personal Information, as described above.    We use Google Analytics to help us understand how our customers use the Site–you can read more about how Google uses your Personal Information here:  https://www.google.com/intl/en/policies/privacy/.  You can also opt-out of Google Analytics here:  https://tools.google.com/dlpage/gaoptout.
Finally, we may also share your Personal Information to comply with applicable laws and regulations, to respond to a subpoena, search warrant or other lawful request for information we receive, or to otherwise protect our rights.
BEHAVIOURAL ADVERTISING
As described above, we use your Personal Information to provide you with targeted advertisements or marketing communications we believe may be of interest to you.  For more information about how targeted advertising works, you can visit the Network Advertising Initiative's ("NAI") educational page at http://www.networkadvertising.org/understanding-online-advertising/how-does-it-work.
You can opt out of targeted advertising by:
    FACEBOOK – https://www.facebook.com/settings/?tab=ads
    GOOGLE – https://www.google.com/settings/ads/anonymous
    BING – https://advertise.bingads.microsoft.com/en-us/resources/policies/personalized-ads
Additionally, you can opt out of some of these services by visiting the Digital Advertising Alliance's opt-out portal at:  http://optout.aboutads.info/.
DO NOT TRACK
Please note that we do not alter our Site's data collection and use practices when we see a Do Not Track signal from your browser.
YOUR RIGHTS
If you are a European resident, you have the right to access personal information we hold about you and to ask that your personal information be corrected, updated, or deleted. If you would like to exercise this right, please contact us through the contact information below.
Additionally, if you are a European resident we note that we are processing your information in order to fulfil contracts we might have with you (for example if you make an order through the Site), or otherwise to pursue our legitimate business interests listed above.  Additionally, please note that your information will be transferred outside of Europe, including to Canada and the United States.
DATA RETENTION
When you place an order through the Site, we will maintain your Order Information for our records unless and until you ask us to delete this information.
CHANGES
We may update this privacy policy from time to time in order to reflect, for example, changes to our practices or for other operational, legal or regulatory reasons.
CONTACT US
For more information about our privacy practices, if you have questions, or if you would like to make a complaint, please contact us by e-mail at admin@coastalturf.com.au or by mail using the details provided below:
  279 Round Mountain Road, , Round Mountain , NSW, 2484, Australia