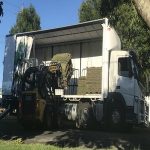 Our Delivery Service 
Our delivery service is structured to make it as EASY as possible for our customers.
We have 5 vehicles servicing the Ballina Byron region and the Gold and Tweed Coasts 6 days a week.
We have 2 Volvo taut liners which are 12m long and 4.2 m tall. Please let us know if you require a smaller truck for delivery.
Our turf is delivered on pallets, unloaded by a Skid Steer loader (3m long and 2m wide).
We require a minimum of 4 days notice for turf deliveries.
We structure our delivery times to suit you! Our farm is located on the coast, this reduces our travel time, therefore enabling us to structure our delivery time that suits you. As a NSW farm we have the advantage of Daylight savings delivery times. 
One phone call to arrange EASY delivery.
But how do we do it? 
Your new lawn from Coastal Turf will arrive in a curtain sided Body truck with our Skid steer loaders to unload and move your turf as close as possible to where you want to install your new lawn.
 30 mins is set aside for each delivery. This gives our drivers enough time to move your turf around, and have a chat with you about your installation. If you require your turf pallets moved around for longer and further  than a domestic size home, an additional fee may be charged. If you have any queries please contact our office on 0266763695.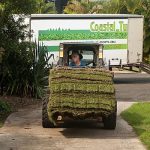 Creating Your New Lawn 
Throughout our 20 years of experiences in this industry, we have continually improved on our methods and have a professional team of installers who know the grass. At Coastal Turf we believe we grow the best turf grasses, and know the best people to install your new lawn. There is nothing better than  mournfully staring at brown dirt in the morning and gazing cheerfully out on lush green in the afternoon. Over our years our production, we know the best installers and can recommend the best Lawn installer for your area. 
Get in Contact with us now to find get in touch with your NEW LAWN INSTALLER